Gift Shop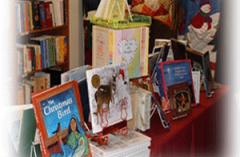 Our Mission —
To provide tasteful, quality Christian books, crosses, music and gifts to St. Michael's parishioners and the community, and to donate profits to support services for women and children.
And All the Angels, a Christian book and gift shop, is located on the lower level of St. Michael's Church. The beautifully-appointed shop offers a wide variety of gift and decorative items, including:
Religious gifts and non-religious gifts for all occasions
Jewelry
Christening outfits and accessories
Baby gifts
A large selection of wall crosses in many styles and materials
Ceramic ware
Custom-made gift baskets.
Bibles and Prayer Books
Devotional books
Blank books and journals
Fiction and non-fiction
Coffee is served in the shop on Sunday mornings and gift wrapping is provided. And All the Angels donates all its profits to charities benefitting women and children. The shop is staffed entirely by volunteers and new volunteers are always welcome.
Shop Hours
| | |
| --- | --- |
| Wednesdays | 11:00 a.m. to 5:00 p.m. |
| Saturdays | 9:00 a.m. to 12:00 p.m. |
| Sundays | 8:30 a.m. to 12:30 p.m. |
Organizations that have received grants from And All The Angels
Little Sisters of the Poor
Community Christian Academy
Diocesan of Renk
ECW Fund Raiser
Diocese of Chicago
Primo Center for Women & Children
Elgin Church of the Redeemer Sisters & Friends
St. Gregory's Episcopal School
Brentwood Elementary School
Mamma's
May Whitney PTO
Cathedral Shelter
Katrina Care Campaign
Sedgebrook Home
Holy Apostles Wauconda
Marcie Scatterbury for Panama
Sudan
St. Cyprians